January 15: News and Prayer Needs
Snow Camp season is here!
We appreciate your prayers for a snow-filled, safe and healthy season with lots of campers and lots of decisions for eternity! Today, our kids are growing up in very uncertain times, and we are excited and passionate about creating an environment where it is easy for them to hear and contemplate Truth. Please pray with us for our Snow Camp services and discipleship opportunities.
The broomball court is ready, and the trophies created. The igloos are up, the tubes are out, and all the activities are set for Snow Camp Season! New this year is a delux version of Lazer Tag- the rental groups have already tried it out and LOVE it! This year, we will host four Snow Camp Weekends for teens, one for juniors and a number of rentals for church groups. So we'll be out in the snow and having fun through the end of February. The teen weekends are all at capacity! If you haven't registered yet, please contact the office to check on availability.
Phil, Lauren, Jon & Kate are all moved into their new home! We are so excited for all the Lord has done to help us bring in this new staff home. Max and Lauren (newly married) will be moving into Phil & Lauren's previous home very soon.
Room 300 (above the office) is almost put back together! Thanks to Derek Stapleton for painting and to Scott Dennis (Makena's dad) for helping us with laying the flooring- it looks great in there! The guys are finishing the last few details, I'll share pictures soon.
Our Camp Apprentices are back and we are so thankful- because as soon as the Snow Camp Season begins, we run at a crazy speed for a number of weeks! If your church creates care packages, we have 10 young adults who would love to sample your cookies and snacks!
We've already been able to be out in some of our supporting churches in this new year, with a number more scheduled. Although we'll have people at camp pretty much every day from now through the first week of March, we've also planned some traveling for summer staff recruitment and church fellowship days.
Since I said summer staff recruitment- please join us in prayer that the Lord will guide and help us as we assemble our summer staff team. We need to hire at least eighty young people! If you know of a college-aged young person who is passionate about Jesus and serving, would you encourage him/her to reach out to us at camp for a conversation about a summer opportunity where they'll make friendships and memories like no summer before! At CoBeAc we love to see God work in and through us.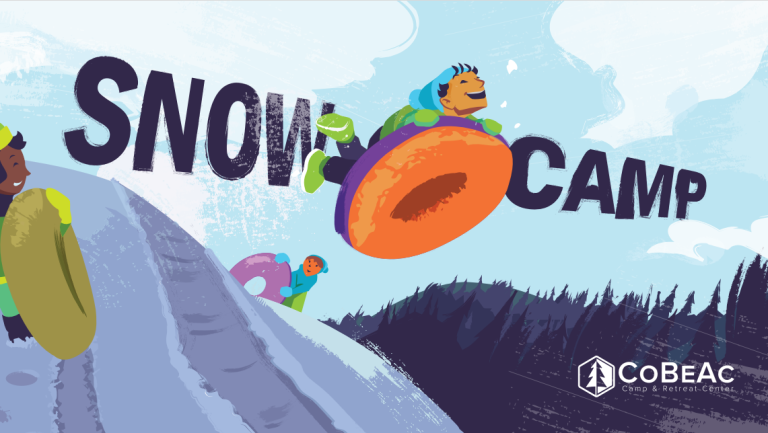 It's that time of year! Most of the campers have registered, but if your church group has been encouraging you to register online-
now is the time to do it!
All four weekends are very full (what a blessing!) If you are planning to bring a group up, but haven't filled out a Church Calendar Form online- please call the office to let us help find a weekend we might be able to squeeze your group into.
January 19-21 Snow Camp Wk 1: Adrian Burden
January 26-28 Snow Camp Wk 2: Thomas Shepherd
February 2-4 Snow Camp Wk 3: Matt Galvin
February 9-11 Snow Camp Wk 4: Dean Miller
February 23-25 Junior Snow Camp: Ed Dunlop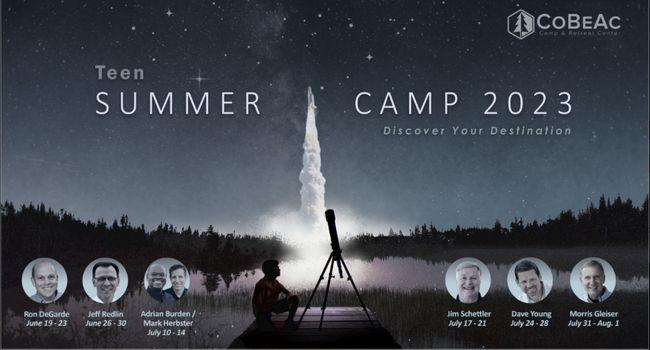 Believe it or not- all but the last week of summer camp is anticipated at capacity! Please fill out your group's Church Calendar Form for week 6 or reply to this email with a request for a different week or the waiting list.
The March 7th Early Bird Deposit will hold each camper's bunk.
Each year we get requests for a Year-at-a-Glance, from our faithful "CoBeAc-ers," those who attend our many events each year. So here it is, mark your calendars! Don't forget to follow us on social media for more updates and events.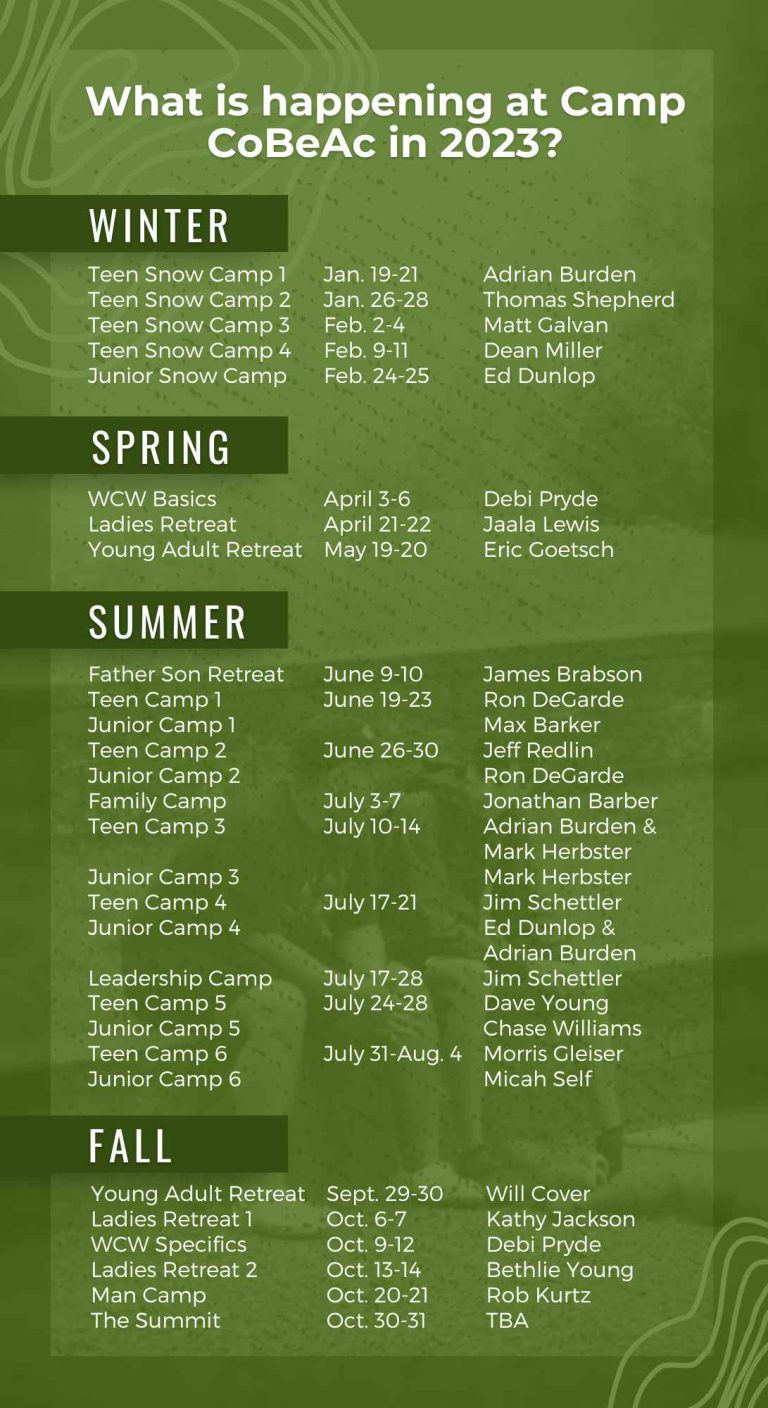 Thank you for partnering with us in the ministry of Camp CoBeAc, and for your continued prayers and support.
The Camp CoBeAc Team